LINGERIE

Feel as good as you look.
EXQUISITE SLEEPWEAR

Beautiful. Delicate. You.
SWIMWEAR

Unique pieces, made for your body.
PROSTHESIS

Natural feel. Naturally confident.
LINGERIE
Feel as good as you look.
EXQUISITE SLEEPWEAR
Beautiful. Delicate. You.
SWIMWEAR
Unique pieces, made for your body.
PROSTHESIS
Natural feel. Naturally confident.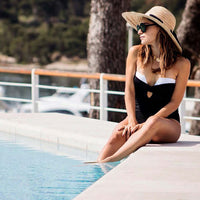 Your Local Lingerie Specialist
Welcome to La Ronde Lingerie. We have a huge range of brands either online ror in store including Fine Lines, Berlei, Playtex, Triumph, Bendon, Fayreform, Trulife, Advanced Breast Care, Amoena, and Nancy Ganz. We stock lingerie, swimwear, sleepwear, and prosthesis to suit any type of body.
Business owner Sharon McCormack is a fully trained fitter, and is experienced in all types of breast care and fitting. Visit us on Reid Street in Wangaratta or shop online knowing that you're getting the best, knowledgeable service and advice in the North East. 
Learn more
Established over 60 years ago and presently located in Wangaratta in NE Victoria, La Ronde Fine Lingerie are suppliers of exquisite lingerie, swimwear and sleepwear from the worlds favourite manufacturers including household names such as Berlei and Playtex. But in addition to their physical and online lingerie store La Ronde, under the stewardship of Sharon McCormack, are specialists in breast care and prosthesis fittings. Sharon herself is a highly trained and experienced fitter and works closely with Amoena and Advanced Breast Care (ABC) to find perfect solutions for post-mastectomy women.
With dozens of brands showcasing hundreds of products in their lingerie online shop, La Ronde have an unashamed emphasis on the glamourous aspect of lingerie with a vast selection of bras, briefs, camisoles and slips that are all designed to accentuate the natural beauty and curves of your body whilst instilling a sense of confidence that allows you to express yourself with complete freedom. But in addition to the stylish and elegant items of fun and flirtatious lingerie, you will also find some more practical items such as the pure merino wool long sleeve top from Baselayers that adds extra functionality to timeless, chic styling.
Furthermore, La Ronde stock a stunning collection of ladies fashion swimwear, possibly one of the finest collections of ladies' swimwear in Australia, featuring bikinis, tankinis, swim dresses and more, available in sizes from 10 – 30, so regardless of your body shape or size this selection of ladies swimwear online will surely include the ideal swimwear for you that will not only help you look fabulous, but feel equally wonderful. Iconic brands such as the Australian owned Baku and Seafolly with European based Prima Donna and their high quality, eye-catching swimwear are brought together presenting the ultimate choice when you wish to buy ladies swimwear online.
The subject of breast care is one of great importance to Sharon and the team at La Ronde and accordingly, they provide a sympathetic and caring service with a focus on assisting ladies post-mastectomy. Fitting for a breast form is a developed skill and acquiring the correct prosthesis is extremely important for the confidence and comfort of the ladies that come to la Ronde for help. Amoena and ABC are two of the leading suppliers of specialist post mastectomy wear; Amoena a German company that also manufacture hand-made breast forms, and ABC makers of mastectomy bras from the USA have many of their products stocked by La Ronde, and a quick call to the store is all that is needed to arrange an appointment for fitting and consultation as a part of the process of ensuring that your needs are met precisely.
In addition to numerous lingerie sets online and the opportunity to buy ladies swimwear online, La Ronde also have luxurious sleepwear and an enchanting range of gifts including hand and body lotion, candles and diffusers, pendants and silk pillowcases for your consideration.
La Ronde Fine Lingerie is the number one site when you want to buy inspirational lingerie on line.